September 2023 Market Update
Written on September 5, 2023 by Nick Ward
Solid information about our local market is helpful for everyone, and especially for our clients who are thinking about entering a real estate transaction this year.
This update is based upon information supplied by the Champaign County Association of REALTORS Multiple Listing Service for all attached and detached single-family properties in Champaign, Savoy or Urbana. It is important to keep in mind that specific segments of the market may have performed better or worse than the overall market analyzed below.
Comparing the Last 12 Months with the Previous 12 Months
 For the most recent twelve months (09/01/2022-08/31/2023) the MLS reported 1,729 sales with a median sale price of $199,000 and a reported average marketing time of 31 days.   For the prior twelve months (09/01/2021-08/31/2022) the MLS reported 2,042 sales with a median sale price of $187,500 and a reported average marketing time of 30 days.
This shows a decrease in the number of sales of 313 homes or -15.3%. The median sale prices saw a 6.1% increase year-over-year. There are currently 145 homes on the market with an average marketing time of 85 days.  This results in a 1.0-month supply of homes in inventory, which is a significant shortage relative to historical supply demand relationships in this market. 
While closing volume for August 2023 recovered to a level closer to the average total sales volume is down 12.5% year-over-year.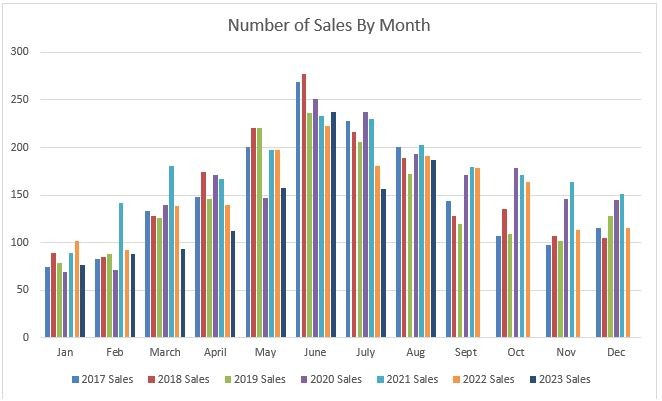 Interest Rates
The Interest Rate Story: In 2020, rates varied from 3.5% to 3.6% through March.  During the peak of the Covid-19 pandemic the Federal Reserve cut the interest rate, which resulted in more volatile interest rants that fluctuated within the 2.0% to 3.5% range.  In the first quarter of 2022 we saw a sharp increase in interest rates, peaking in around 7.0%.
Currently, 30-year fixed rate mortgage financing is available at 7.000%.  With the slowing of the rate of inflation is likely that we will see interest rates stabilize at their current point.  Many experts are predicting rates to remain stable for the coming year.  Please note that the interest rate can vary significantly between lending institutions and borrower qualifications.  Contact your Joel Ward Homes agent for recommendations!
Local Employment Analysis 
The close connection between employment levels and the strength of housing markets has been well established, both locally and on a national basis. In July 2023 (the last month for which data has been published) there were 103,316 employed people in Champaign County and an unemployment rate of 5.0%. In July 2022 there were 103,412 people employed with an unemployment rate of 4.3%. This results in a negligible change in the number of people employed.    
What follows is a graph showing the number of jobs in Champaign County, by month, based upon non-seasonally adjusted U.S Bureau of Labor Statistics data.
NUMBER OF JOBS IN CHAMPAIGN COUNTY NON-SEASONALLY ADJUSTED DATE PER BLS

Conclusions
The primary factor in the residential market is a significant shortage of supply of homes in inventory.  Some properties are still experiencing multiple-offer situations and sale prices well above list.  Most of these properties have been extensively updated and priced competitively, and it appears most buyers are willing to pay a significant premium for updates.  However, we are also seeing many listings with above average marketing time.
What does this mean to the home seller?  It is highly important that a seller focuses on properly staging their home and completing the necessary updates and repairs to entice the largest pool of potential buyers.  Pricing is also very important, as properties that are priced above the market rate are stagnating on the market.  Properties in good condition that are priced appropriately are those experiencing multiple offers.  It also appears that properties with marketing time over 14 days are experiencing negative stigma.
Despite high interest rates it is currently a very competitive market for buyers.  Buyers should be prepared to pay at or above list price, and ready to move quickly once an acceptable property is identified.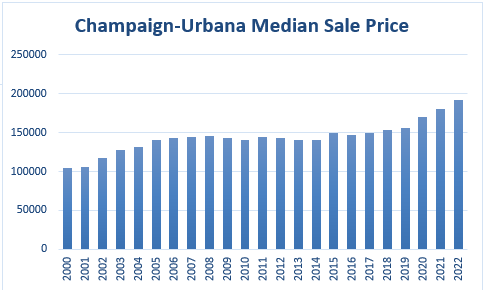 Overall, Champaign-Urbana real estate has proven to be a good investment over time with an average annual appreciation rate of 2.6% since 2000, and this includes the 2009-2013 financial crisis and recession.
Remember that each particular segment of the market is different. If you are thinking about selling your home, or buying one, the best decision is to contact your Joel Ward Homes REALTOR to obtain current information about the specific segment of the market relevant to your property.